| | |
| --- | --- |
| | |
Quality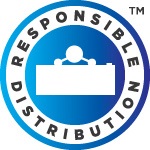 The quality policy of Metalworth Resources Ltd is as follows: "We are committed to meeting customer requirements error free, on-time, every time through a capable workforce and continual process improvement".
We strive to operate internally in a productive and profitable manner to maintain our standing as the major supplier of Maintenance, Repair and Operating (MRO) supplies in Nigeria.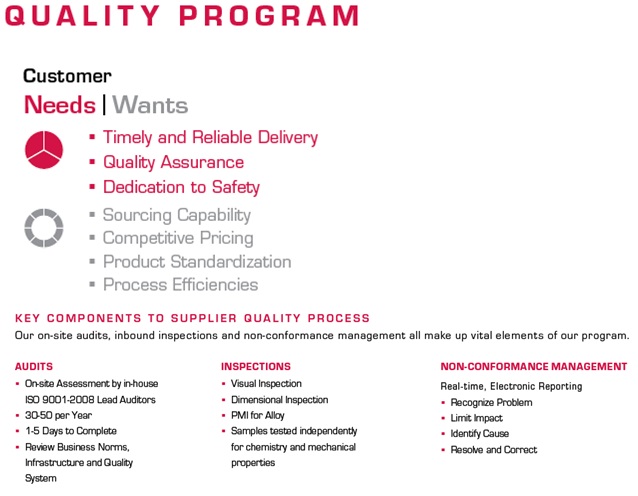 ISO
Continuous Improvement
Product Compliance
ISO
Metalworth Resources Ltd takes its commitment to process quality very seriously to ensure customer satisfaction when developing or performing internal functions, whether in purchasing, warehousing, sales, or delivery. Our quality system is based on the international standard of ISO 9001:2008.
All positions within the organization have a responsibility to maintain superior process quality by identifying and rectifying any real or potential situations that affect product or service quality. This means any position from warehouse entry level to General Manager has the opportunity to make process quality improvements. All suggestions are reviewed by management and actions are taken as appropriate.
Performance Measurements
Metalworth Resources Ltd utilizes a number of metrics to track our performance against established measurement criteria. Following is a sample listing of metrics that we use:
Inventory turns
Operating expenses
Fill rates
Shipping accuracy
Productivity levels
Customer satisfaction
Supplier performance
Internal Quality Audits
Metalworth Resources Ltd conducts periodical internal quality audits to:
Ensure each aspect of the quality system is operating efficiently in meeting or exceeding customer expectations, regulatory requirements and our internal goals and objectives.
Identify opportunities for process quality improvements.
Determine the effectiveness of the quality system.
Management personnel of the areas audited are responsible for responding to findings and implementing corrective actions. Corrective actions are followed up to ensure that they are in place and effective.
Continuous Improvement Programs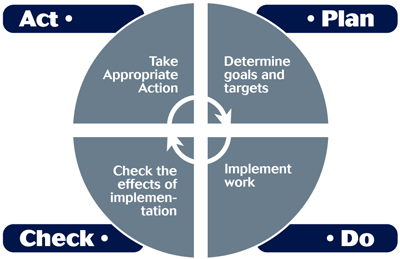 Metalworth's Continuous Improvement approach combines the disciplines of Lean and Six Sigma to drive measurable improvements in our business and in the quality, consistency and cycle time of our customers' experiences. By integrating the tools and processes of Lean and Six Sigma, we're creating a disciplined, data driven approach to ensuring we are easy to do business with – that we unlock ways of working smarter … quicker … and better for our customers.
Metalworth's Continuous Improvement provides the framework and tools we need to analyze business processes and identify ways to eliminate both errors and unnecessary steps.

Metalworth's Continuous Improvement is focused on – our customers, our processes and our people.

Process Focus: We realize that the process challenge lies between departments and that the transfer of knowledge and information is generally not done very well between those silos. Process optimization demands that all employees across functions maintain a mindset of constant evaluation and improvement. If we do it effectively, we know the results can be astounding.

People Focus: We understand that embedding a rigourous metholodgy like our Continuous Improvement does not happen overnight and is in fact a journey. For this reason we understand that one of our key focuses is to create leaders that are driven by the valuing of facts and analysis (being fact based), have an openness to having current practices questioned (embracing change), have an ability to measure and report defects and waste without defensiveness (sharing, trusting and admitting mistakes) and use analytical tools to evaluate risk and options (accepting calculated risks).

Customer Focus: With more than 12 years in the business we well know that everything starts with our customer. Creating a consistently superior and efficient customer focused approach to our business is what we are about and why we have made a company commitment to Metalworth's Continuous Improvement.

Metalworth's Continuous Improvement is a critical step toward creating a culture that is driven to excel. And one that is focused on reducing process variation, improving cycle times, enhancing the customer experience and providing increasing returns on our investments in capital and human resources.
Product Compliance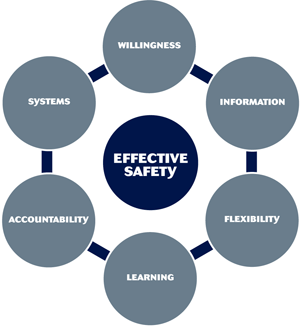 With customer service being its first priority, Metalworth's objective is to anticipate and satisfy the needs of our customers with the broadest range of stocked industrial, safety and fasteners.
Servicing various integral parts of the industry, Metalworth Resources Ltd has to make sure that quality is never compromised. Part of our customer service program is to ensure that not only we supply first class MRO products but to also go a step further and make sure that we take a proactive role in meeting and exceeding industry expectations.
As part of that commitment, we have intensified requirement and developed a Vendor Quality Assurance Program to assist in creating a total quality system. This total quality system includes the approval, monitoring and maintenance stage of vendor retention. It includes three stages:
1. Approval stage is the first of the three stages. This is where a supplier is evaluated on whether they are capable of becoming an approved vendor to Metalworth. Suppliers enter a contract which stipulates that all products supplied to Metalworth Resources Ltd will confirm to all applicable laws and regulations in Nigeria.

2. The Compliance stage insures that the vendor continues to deliver all the needs of Metalworth Resources Ltd, including quality, adherence to contractual agreements and conformance to industry standards and regulations. Periodic audits are performed on Metalworth Resources Ltd vendors by the Vendor Compliance Manager, to ensure that products are being manufactured with optimum quality control.

The main areas that vendors are audited on are policies, legislations and standards, incoming raw material, manufacturing, final test, pack and ship, environment, health and safety, product recall and pricing. The objective is to have a system of risk assessments and risk controls that depicts where suppliers stand with respect to compliance.

The audits are score based and vendors are monitored against industry standards and compared to other vendors to ensure that Metalworth Resources Ltd's products are manufactured based on the highest expectation in the industry.

As part of our proactive approach to quality assurance, audits are performed on vendors in a random order. This is to ensure that all areas of the industry are monitored and controlled. However, there are times that an audit is required to be performed as a reactive measure in replying to a recent issue or a government or industry regulation. For this purpose, a decision matrix has been created to help determine some the reasons when Metalworth Resources Ltd should be considering auditing a vendor. Some of those reasons could include performance flaws, quality deficiencies and certification requirements.

3. Maintenance, the third stage of the program, is where we ensure that the vendor's performance remains at an acceptable level. During this stage, ongoing correspondence takes place with the vendors to ensure that they receive updates regarding government and industry changes, adhere to the new changes and continue to operate at the highest level of quality possible.
Our commitment to quality is ongoing. The processes that have been implemented ensure that our products adhere to all Nigerian standards and regulations.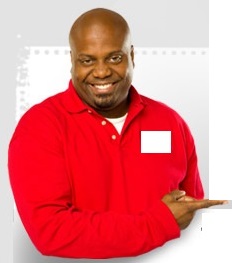 Contact us:

Office +234 (0)8100172923
Mobile +234 (0)8023134941
sales@nigeriaindustrialMROsupply.com
| | |
| --- | --- |
| | |
Projects

Made in USA Products

We source direct from OEM

Official Nigerian Distributor
Quality MRO & OEM Industrial Supplies

Nigerian Downstream oil and gas producers rely on us for MRO needs.

MRO Supplies - Maintenance, Repair and Operation (MRO) items are used in production and plant maintenance and can be items such as maintenance supplies, spare parts, Safety Supplies and consumables used in the production process. This includes items such as: oils, lubricants, gloves, safety equipment and cleaning products.

Services

Industrial Supplies

Ship Support & Supplies

Oil Field Procurement & Supplies

Integrated Supply Chain Management

Technical & Management Support Outsourcing